This stunning zig-zag pillow will sharpen your cutting, sewing and patchwork skills. Liza patiently walks you through the step-by-step process of cutting parallelograms, with tips for accurate cutting and marking that will make the sewing process go smoothly. Each stripe sequence is created in a vertical row, then the rows are sewn together to create the striking chevron effect. Once you've practiced these skills on a pillow, you'll be ready to apply them to your larger quilt projects.
Here's what you'll need:
Materials:
⅝ yd of each of the following Kaffe Fassett Woven Stripes by Rowan (Alternating Stripes Blue, Alternating Stripes Orange, Caterpillar Stripe Earth, Caterpillar Stripe Dark, Broad Stripe Yellow, Exotic Stripe Midnight, or 6 woven stripes of your choosing)
⅛ yd of each of the following Kaffe Fassett Shot Cottons by Rowan (Apricot, Tangerine, Ecru, Galvanized, Bronze, Thunder, Pudding, Watermelon, or 4 pairs of light/dark combinations of Shot Cottons. 8 fabrics total)
1 yd of Kaffe Fassett Lotus Leaf printed fabric in Antique (or any printed fabric of your choice)
spray starch (Liza uses Mary Ellen's Best Press)
Clearview acrylic quilters triangle
or a rotary ruler at least 6" x 12" printed with 60° lines
22" Fairfield Soft Touch pillow form
sewing machine and coordinating thread
fabric scissors
pencil or tailors chalk
Downloads: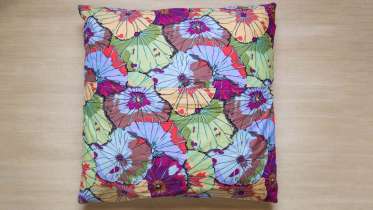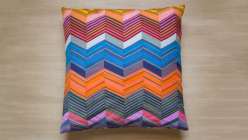 Browse members' projects from this class and share your own work! Learn how to take great photos
here
.
Class PDF
Transcript
Notes
Your timecode tags and notes for this section
Class Reviews
32 users recommended this class to a friend

crafter-
This is not actually taught by Kaffe Fassett... very misleading title. Still, a pretty good class.
More than 3 months ago

Catherine Grennan
She's great at step by step cutting and sewing, including tips.
More than 3 months ago

Margaret Solomon
Stunning pillow; instructions were very clear and easy to follow.
More than 3 months ago