Total Time: 1 hour 38 mins 1 sec
In this 3-part series, artist and teacher Lindsay Stripling teaches you core watercolor techniques, and then encourages you to use your creativity to make the medium your own. Throughout this series, you will learn watercolor essentials like mixing colors and handling brushes, and then move on to more advanced techniques like adding depth with glazing, working "wet into wet," playing with light and dark, and creating textures with masking fluid and salt. This comprehensive course is the perfect skill-builder for those who want to push their artistic limits.

Playing with Watercolor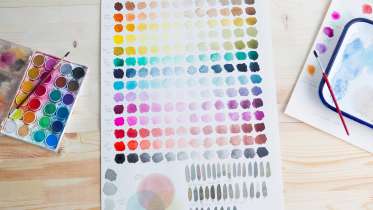 Part 1:
Playing with Watercolor: Mixing Colors and Creating Charts
Lindsay Stripling
Learn the essentials of working with your paints and brushes to create gorgeous washes in Part 1. Lindsay shows you how to create a color chart with customized tints and shades, as well as how to blend primary colors to create neutrals. Finally, Lindsay shows you how to clean up your workspace and care for your tools.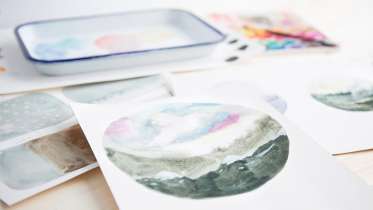 Part 2:
Playing with Watercolor: Part 2 - Painting Landscape Orbs
Lindsay Stripling
Part 2 is chock full of intermediate techniques, all of which are used to make intriguing circular landscapes (or orbs). Lindsay shows you how to create white space and add textures, including adding walnut ink to watercolor and using masking fluid. You will then put these skills into practice, creating abstract landscapes and horizon lines with both wet-on-wet and dry-on-wet techniques.
Part 3:
Playing with Watercolor: Part 3 - Painted and Collaged Landscapes
Lindsay Stripling
In the third and final part of Playing with Watercolor, Lindsay leads you through exercises for combining paintings with collage, resulting in highly textured artwork. You will learn how to create glazed layers and add salt for texture, then put everything together to create a collaged landscape filled with color and depth.

Who's Recently Taken This Class
Meet other Creativebug crafters who have recently taken this class.