What will you make this February? Watch this quick promo to get a sneak peek of our all-new releases and seasonal favorites.
Click here
to watch all of the classes shown in the promo.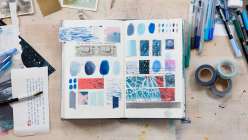 Browse members' projects from this class and share your own work! Learn how to take great photos
here
.
Transcript
Notes
Your timecode tags and notes for this section
Class Reviews
124 users recommended this class to a friend
Brittany Mazzola Leath
This got me excited about what I could learn in February.
More than 3 months ago

Deborah Barker
it seemed to short, and It didn't seem to have any instructions?
More than 3 months ago