Illustrative Painting with Gouache
Before you start painting illustrations with gouache, it's important to understand how to work with the medium. Jennifer begins by showing you how to set up your palette and mix custom colors. She also teaches how to work "thick" or "thin" with dry and wet gouache in order to achieve different effects. Once you've got the hang of working with gouache, Jennifer shows you how to approach painting fanciful everyday objects, like teapots and mugs.
Learn how to:
Work with gouache
Paint from life
Paint from photos
Painting from imagination, stylizing shapes and lines
Mix colors
Apply paint in a loose style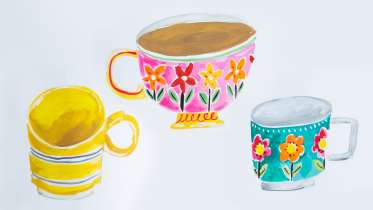 Browse members' projects from this class and share your own work! Learn how to take great photos
here
.
Transcript
Notes
Your timecode tags and notes for this section
Class Reviews
2941 users recommended this class to a friend

Annabelle Trombetta
Very informative. Lots of demo. I like it that Jennifer talks while she paints. She tells us what she is thinking and why she is doing a particular thing. One suggestion…Jennifer's sketches are drawn very lightly, and are impossible for the viewer to see. Why nor draw them darker just for the demo purpose. And perhaps show the reference while she draws. Again, Jennifer is a great teacher. This class is packed with great info.
1 day ago

Christine Anderson
I love the way she layers lighter and darker tones to add depth to the flowers.
November 27