Creative Doodling: Exploring Pens and Lettering
Description
All levels
|
2 hours 12 sec
Pam has never met a pen she didn't want to try. While a basic pen is great for doodling, playing with other pens and markers can help expand your style and the look of your doodles. In the second part of Creative Doodling, Pam introduces you to a few of her favorite tools and also shows you some fun lettering styles. Learn how to start organically doodling, filling the page with patterns and colors as you go.
Learn how to:
Use different pens and markers in a doodle
Balance design with density level
Balance design with shape and color
Doodle motifs inside and around letters
Create a continuous line motif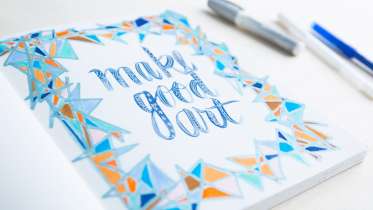 Exploring Pens and Lettering
Materials
Here's what you'll need:
Micron .05 pen
Micron fine .03 pen
Sketchbook
Sakura Gelly Roll Pens
Koi Brush Pens
Pentel Color Brush Pen
Zig Art and Graphic Twin
Zig Clean Color Real Brush
Zig Large Paint Pen
Pigma Brush Pen by Sakura
Pilot Parallel Pen
Varsity Disposable Fountain Pen
Browse members' projects from this class and share your own work! Learn how to take great photos
here
.
Notes
Your timecode tags and notes for this section
Who's Recently Taken This Class
Meet other Creativebug crafters who have recently taken this class.