30 Coloring Pages: Get Creative with Colored Pencils
All levels
|
1 hour 26 sec
When it comes to filling in fine lines and small areas, there's no better tool for the job than a freshly-sharpened colored pencil. Courtney shows you how to blend hues and distribute colors evenly for balance and cohesion. She also demonstrates the proper pressure to use to get a perfect light-to-dark fade. Finish off your coloring with some Micron brush marker strokes and you've got a polished masterpiece.
Learn how to:
Change pencil pressure to affect tone and gradation
Blend colors for different effects
Create shadows to add volume
Move color around the page for flow and balance
Combine brush pen with colored pencil
Chapters
Part 1: Get Creative with Colored Pencils
Materials
Here's what you'll need:
Coloring pages (see PDF)
Colored pencils
Pencil sharpener
Micron brush marker
Downloads: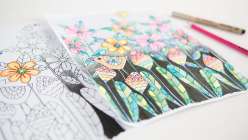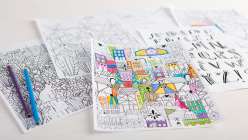 Browse members' projects from this class and share your own work! Learn how to take great photos
here
.
Notes
Your timecode tags and notes for this section
30 Coloring Pages with Courtney Cerruti, Lisa Congdon and Pam Garrison
Who's Recently Taken This Class
Meet other Creativebug crafters who have recently taken this class.