Crochet Edge Baby Blanket
Use a skip stitch rotary blade and fingering weight yarn to add a decorative edge - and a personal touch - to a flannel blanket. This video originally appeared live on September 9, 2019.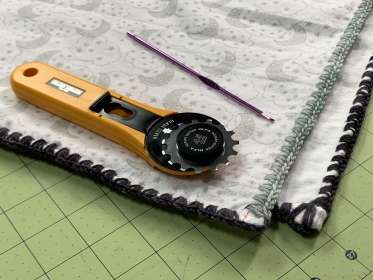 Browse members' projects from this class and share your own work! Learn how to take great photos
here
.
Transcript
Notes
Your timecode tags and notes for this section
Class Reviews
31 users recommended this class to a friend

Michele Funnell
Loved learning this class from her! She had me learning and laughing, a sign of a great teacher in my book! Thank you so much!
February 12, 2023
Marcia Vandenheuvel
How about finishing the edging or crochet off? What do I do with the tails?
More than 3 months ago

Terri Monroe
This was awesome!! I love her humor (I think we're related!) I can't wait to find my supplies and start making these! Now I'm also thinking I need a blade wall!
More than 3 months ago